Durham County Record Office: the official archive service for County Durham and Darlington
Image Details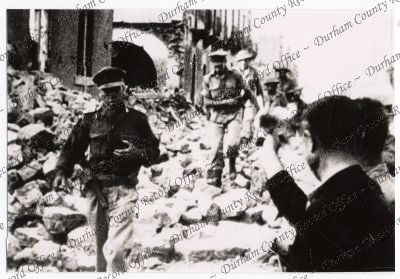 This image is held in Durham County Record Office and
must not be reproduced in any form without permission.
Return to your search results
About This Image
Reference: D/DLI 7/273/75/1
Photograph of a frame from the film 'Review of 1943' by Gaumont British News, showing the first patrol by the 9th Battalion The Durham Light Infantry in Catania, Sicily, 1943 Left to right: Second Lieutenant Roy Griffiths, Second Lieutenant John Reid, [ ] Tedford, Schelmerdine, Rigby and Steadman
(1 photograph, 15 cm. x 10 cm., black and white) - 3056(D)
Purchase a Copy
If you would like to purchase a copy of this image, please contact us quoting reference D/DLI 7/273/75/1.