Durham County Record Office: the official archive service for County Durham and Darlington
Image Details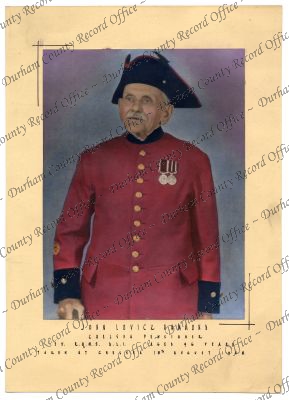 This image is held in Durham County Record Office and
must not be reproduced in any form without permission.
Return to your search results
About This Image
Reference: D/DLI 7/286/17
Photograph of John Lovick Hammond, Chelsea Pensioner, ex Regimental Quartermaster Sergeant, The Durham Light Infantry, aged 96 years, taken at Chelsea, London, 18 August 1948
(1 photograph, 25 cm. x 34 cm., colour, card mounted) - 2546(D)
Purchase a Copy
If you would like to purchase a copy of this image, please contact us quoting reference D/DLI 7/286/17.