Durham County Record Office: the official archive service for County Durham and Darlington
Image Details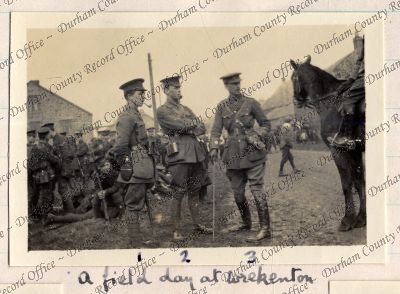 This image is held in Durham County Record Office and
must not be reproduced in any form without permission.
Return to your search results
About This Image
Reference: D/DLI 7/424/2(12)
Photograph of three officers on exercise, captioned: A Field Day at Wrekenton, 1. Lieut. R.V . Hare; 2. Capt. Walton; 3. Capt. Jeffreys of 'B' Company, 'D' Company and adjutant 6th Battalion The Durham Light Infantry respectively, n.d. [1914 - 1915]
Purchase a Copy
If you would like to purchase a copy of this image, please contact us quoting reference D/DLI 7/424/2(12).