Durham County Record Office: the official archive service for County Durham and Darlington
Image Details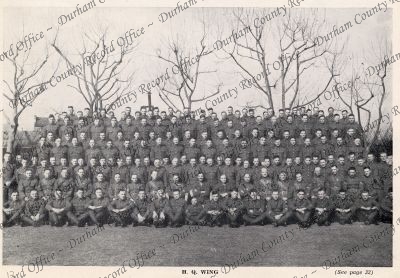 This image is held in Durham County Record Office and
must not be reproduced in any form without permission.
Return to your search results
About This Image
Reference: D/DLI 2/1/81(13)
Group photograph of 'HQ' Company, 1st Battalion, The Durham Light Infantry, taken at Shanghai, China, January 1938 Back row: Boy Cameron, Privates Turnbull, Satchwell, Davies, Finn, and Lyon, Lance-Corporal Hardie, Private Spoor, Lance-Corporal Moodie, Private Carrick, Boy Temple, Privates Hill, F.W. Brown, C. Taylor, J. Taylor, Nesbitt, and H. Jones, Lance-Corporal Gill, Private Chapman, Boy Harksworth, Lance-Corporal Attwater, Private Owens, Private Coates, Lance-Corporal Hogbin, Private Walker, Lance-Corporal Johnston, Boy Taylor, Private Fergusson, Lance-Corporal Jeans, Private Watson, Private Foster, Boy Robinson, Privates Todd, J.W. Brown, Gill, T. Thompson, Wilkinson, and Anthony Sixth row: Privates McNally, Henry, C. Barker, Green, Conlin, Herdman, Stamper, Arnold, Malcolm, and Johnson, Boy Milligan, Private Hardie, Private Whitehead, Boy Rice, Private Sparrow, Lance-Corporal Metcalfe, Corporal Cairns, Privates Walker, P. Smith, and Huckstep, Lance-Corporal McGonnell Fifth row: Privates Richardson, Harrison, Metheringham, Mitchell, Brackenbury, Clarke, Hall, Turner, Edwards, T. Morris, and Lister, Boy Kemp, Boy Hann, Privates Quinn, Bateman, Adams, Kennedy, Brannagan, and Almond Fourth row: Private Carr, Private Collins, Lance-Corporal Charlton, Lance-Corporal Hogarth, Private Mason, Lance-Corporal Smiles, Privates 2/1/81(13) continued Hood, Flanagan, Ford, Wood, Kirk, Gair, Grimstead, Hilton, and Thornton, Boy Pratt, Privates McLean, Rampling, Hogarth, and Thomson Third row: J. Henry, Lance-Corporal Prior, Privates Smurthwaite, G. Henry, Avery, Beckwith, Finnigan, W. Smith, Macdonald, Hartis, Griffiths, Storey, J. Anderson, Sloan, C. Anderson, and Bamborough, Lance-Corporal Foley, Privates G. Smith, Arrowsmith, and J. Morris, Lance-Corporal L. Morris, Privates Bloomfield, J. Cooper, H. Smith, Gibson, and Slape, Corporal Dale, Privates Boddy, Renny, Hudson, McGeogh, and D.S. Jones, Boys Blackbourne, Milford, and Baul, Corporals Taylor, G. Hall, Harbottle, J. Barker, and Gower, Lance-Corporal Beddon, Corporal Bolam Second row: Private Webb, Sergeants Flanagan, Marshall, Lauderdale, Bolam, and Coulthard, Staff-Sergeant Watt, Company Sergeant-Major Brooks, Orderly Room Quartermaster-Sergeant Newman, Lieutenant May, Lieutenant Luard, Band-Major Rippon, Regimental Quartermaster-Sergeant Kirk, Sergeants Pirie, H. Thomson, Colman, Stonehouse, J. Thompson, Private Goodwin Front row, seated: Corporal Harrison, Privates Smith, Shaw, Burdon, and Featherstone, Corporal Hudson, Private Barnes, Private Nash, Boy Thorpe, Boy Marshall, Privates Lax, Holland, Cowley, Bramley, Gilmore, Scott, Richards, Harmer, and Pike
Purchase a Copy
If you would like to purchase a copy of this image, please contact us quoting reference D/DLI 2/1/81(13).