Durham County Record Office: the official archive service for County Durham and Darlington
Image Details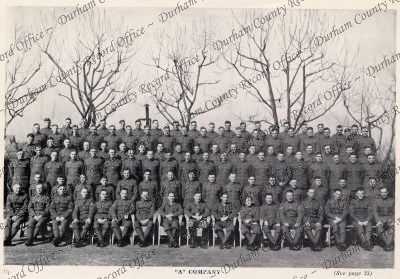 This image is held in Durham County Record Office and
must not be reproduced in any form without permission.
Return to your search results
About This Image
Reference: D/DLI 2/1/81(14)
Group photograph of 'A' Company, 1st Battalion, The Durham Light Infantry, taken at Shanghai, China, January 1938 Back row: Privates Currell, Walker, Hall, Hainsworth, Carr, Armstrong, Blackie, Stearman, Fleury, Baugh, Garneck, Waterfield, Wainwright, Tearke, Whitehead, Black, Andrew, and Peacock Fifth row: Privates Brown, Jewett, Ritchie, Goldsworthy, Watson, Minto, Burton, Gibson, Perrie, McBartlen, Drummond, Brown, Wilson, Milburn, Greener, Hay, Buglass, Bell, and McGrath Fourth row: Privates Dewhurst, Rochester, Kenny, Mathews, Wild, Curtis, Probert, Williams, Brown, Harrison, Broom, Hust, Rafferty, Edwards, Leaske, Elliot, Taylor, Hannan, and Mellor Third row: Privates McBarthet, Webb, Pearson, Woods, Johnson, Boyle, Barnes, Thompson, Garry, Bell, Hotchin, Hartas, Marshall, Medforth, Ayre, Pule, Rowe, Toogood, Moralee, and Kegg Second row: Privates Forster, Blakemore, Weatherill, and Griffiths, Lance-Corporal Smith, Private Hunter, Lance-Corporal Lamb, Lance-Corporal Barker, Corporal Betterley, Lance-Corporals Slater, Wilson, Fairless, and McNally, Privates Shaughnessy, Stephenson, and Ashworth Front row, seated: Corporals Newell, Livingstone, and Hudson, Sergeant Wall, Lance-Corporal McDermot, Sergeant Hutchinson, Company Sergeant-Major Browne, Lance-Corporal Allen, Captain F.H. Simpson, Lieutenant A.L. Keith, Second-Lieutenant D'Arcy-Irvine, Colour-Sergeant Hatton, Sergeant Scott, Sergeant Fairclough, Corporal Ditchburn, Corporal Thorpe, Lance-Corporal Adams
Purchase a Copy
If you would like to purchase a copy of this image, please contact us quoting reference D/DLI 2/1/81(14).